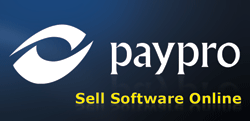 Toronto, Canada (PRWEB) July 11, 2012
PayPro Global the international provider of innovative eCommerce solutions to sell software online announced today the implementation of giropay to its eCommerce platform. Thanks to the availability of giropay in the PayPro EasyCommerce platform, software vendors are now able to considerably improve their positions and quickly adapt to the specifics of the German market.
The strong position of giropay on German market derives from the fact that not all German shoppers are credit/debit card owners. Direct debiting and invoicing harbor considerable risks of nonpayment and entail cost and labor-intensive procedures such as payment monitoring, dunning and debt collection. Prepayment is unpopular with customers and has procedural disadvantages such as long processing times and account monitoring. Among the numerous advantages for merchants are such factors as high penetration on the German market, no processing interruptions, immediate payment confirmation to merchants, payment guarantee of up to EUR 10,000 per transaction and no chargeback possibility for consumers.
With the recent introduction of giropay to our system, we are consolidating our presence on European markets. By constantly expanding our payment method portfolio, we are bringing our partners products closer to consumers, thus making the process of selling software online easier and more efficient said Matthew Silverman, CEO of PayPro Global.
We are delighted to offer PayPro Global a popular and secure payment solution on the German market. We are confident in outstanding results of this partnership due to our high market potential and high level of trust among German consumers. We look forward to helping PayPro Global expand their products and service offerings in Germany, said Joerg Schwitalla, Managing Director of giropay.
About giropay
giropay was introduced in 2006 as a joint project of the German banking sector by Postbank, Sparkassen, Volksbanken and Raiffeisenbanken. This payment method is similar to iDeal (NL), eps (AT), NetBanka (CZ), eDancard (DK), Interac (CA) and solo (FI). giropay is supported by more than 17 million German online accounts at the moment in the above mentioned banks, as well as accounts at other banks.
Website: http://www.giropay.de
About PayPro Global
Founded in 2006, PayPro Global, Inc. develops and hosts an eCommerce solution that allows anyone to easily sell software online. PayPro Global supports more than one hundred currencies, all major credit and debit cards, and a wide variety of payment options. The company also offers software developers state-of-the-art licensing, activation, and anti-piracy protection for their applications.
PayPro Global is headquartered in Toronto, Canada, with development centers in Ramat Gan, Israel and Lugansk, Ukraine, and regional offices in New York, USA, and London, UK.